Noam Chomsky barred by Israelis from lecturing in Palestinian West Bank
Social Insight
— POSTED BY
Cosmo
on May 21, 2010 at 10:27 am
US academic denies claim that misunderstanding by border officials was to blame for ban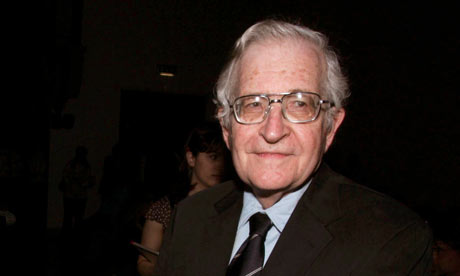 (Noam Chomsky – refused entry to Palestinian West Bank by Israel during lecture tour Rex Features)
Noam Chomsky, whose withering critiques of political establishments have earned him the wrath of regimes of all persuasions around the world, was todayforbidden by Israeli immigration officers from entering the Palestinian West Bank.
Chomsky said he was disappointed and surprised to have been turned back from the Allenby bridge across the Jordan river, which is understood to be the first time he has been refused entry by the Israelis. He had been due to give a series of lectures on domestic and foreign policy at Birzeit University and the Institute for Palestine Studies in Ramallah, in the West Bank.
He told Al-Jazeera television that the immigration official who interviewed him had made it clear that "the government of Israel doesn't like the kinds of things I say, which puts them into the same category as every other government in the world".
The academic, aged 82, had been with his daughter and two Jordanian friends. The friends were allowed through by the Israelis, but Chomsky and his daughter were denied entry.
Chomsky added that the Israeli authorities also seemed to take exception to the fact that he was only giving lectures in the Palestinian territory and would not be speaking in Israeli universities, "which I have done several times in the past".
Chomsky has been a keen critic of the Israeli occupation of the West Bank, and of successive US governments that he says have propped up the system in which Palestinians are denied equal rights.
Sabine Hadad, a spokeswoman for the Israeli interior ministry responsible for immigration decisions, said the department was trying to contact the military to clear up the matter, in order to allow Chomsky in. She told Reuters there had been a misunderstanding, as border officials had wrongly assumed he was planning to visit Israel as well.
But Chomsky said: "There was no misunderstanding. I was invited to give a series of lectures. It was straightforward, I do it all the time." He said that even if the Israelis did clear him for entry, he would now have insufficient time in his schedule to visit the West Bank.
Tags: brainwave, Consciousness, emotion, futorology, future, politics, social commentary, Social Insight, The Guardian
Leave a Reply
You must be logged in to post a comment.
Trackbacks
Leave a Trackback