Have we cracked the DMT Puzzle?
Altered States
— POSTED BY
Charlotte Walsh
on April 7, 2010 at 2:53 pm
James Kent attempts to tie a knot in the meme of autonomous elves and other DMT entities.
"Snippets of the Psyche" revealed in DMT space, by James Kent
The comments in this article are adapted from Psychedelic Information Theory: Shamanism in the Age of Reason, by James Kent.
The following is an edited version of an e-mail conversation written during a bout of insomnia, in response to DMT, Moses, and the Quest for Transcendence, by Clifford Pickvoer.
To: Clifford Pickover
Sent: Tue, 27 Apr 2004 02:51:05 -0700
Subject: DMT Elves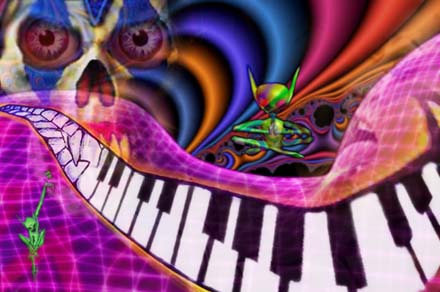 Hey Clifford, a friend recently pointed me to your article on DMT, Moses and Aliens. Since you asked people to voice their opinion I shall. I have studied this issue very closely for the past fifteen years, and though I have not published the results of all my research I would like to share with you some of the conclusions I've made about DMT and the dramatic phenomena it produces.
In short, I do not believe DMT is a gateway to an alternate dimension, nor does it induce contact with autonomous elves and alien entities. Yes, DMT produces a vivid other-worldly landscape when ingested, often including elves, aliens, insects, snakes, jaguars, etc. This is true for the majority of people who try it. Some people do not have such vivid responses, but many do. Although this may appear at first glance to be "shocking," it is actually no more shocking then the fact that most people dream at night, or that most people see geometric patterns (pressure phosphenes) when they close their eyes and press against their eyeballs. But the difference between pressure phosphenes and DMT is that DMT is illegal and very hard to come by, so most people never have the opportunity to experience it. If we could all hold our breath for a minute and produce vivid hallucinations of alien landscapes it would seem quite mundane, no more than a mere curiosity of the human condition. However, since this particular alien landscape is produced by a specific rare substance (DMT), people seem to think it is akin to unlocking the mysteries of the universe when they actually get their hands on it.
Now don't get me wrong, DMT is stunning in its effect, no doubt. But, like anything, when you do it many times the magic tends to wear off and reveal itself for what it is; an exotic aberration of the brain's perceptual mechanics. To illustrate this point I would like to offer the following observations:
1. DMT acts primarily at the 5-HT2A receptor, which is where the hallucinogenic tryptamines work their visual magic. Without going into all the details here, let's just assume for a moment that a molecule with the proper shape acting at 5-HT2A site can significantly disrupt and/or enhance visual sensory processing, depending on dosage. If this is the case, then dumping DMT into the perceptual wetworks is akin to messing with the logic that produces the display on the computer screen you are looking at right now. Any programmer can tell you that a single line of code consisting of only a few characters can drastically alter the way your screen presents the data coming from your video card. It can make the screen flicker, blink, warp, twist, or fall into infinitely recursive fractalline chaos. When this happens is your monitor now displaying an "alternate reality" or "parallel dimension"? No, it is not. It is simply taking the same old data and processing it with a new factor in the base algorithm (disruption/excitement at the 5HT2A receptor). Even a very small tweak could produce dramatic results. Since the sensory processing system is so delicate, any abrupt chemical perturbation can cause it to become excited, unstable, or fall into chaos. When the visual system is disrupted for any reason we get phosphene activity, which is the visual system's version of a "ringing in the ears." Phosphene activity is chaotic, but as we all know chaos does not produce random noise, it is familiar and predictable, and produces some damn trippy patterns.
2. The sensation of seeing aliens, elves, or being in the presence of God(s) is not unique to DMT users. Otherwise sane people who have never tried DMT report these sensations all the time, and it is generally treated as a sign of psychosis (see separate topic on Charles Bonnet Syndrome CBS). However, recent research has shown that by stimulating parts of the temporal lobe you can reliably reproduce the feeling of being in the presence of God (also known as "seeing the light," "feeling enlightened," or having a "religious epiphany"). It is an innate human sensation — just like the feeling that "I'm being watched right now" is an innate human sensation — we just don't catalog it as such because it is relatively rare, happening perhaps only once in a lifetime to those who do not artificially stimulate themselves, perhaps never in a lifetime. Some people have very dramatic religious epiphanies with angels and demons and all form of cherubim marching through with horns and such with no drugs whatsoever, and though it is a common event we generally treat it today as a psychological aberration; though back in the day it was the stuff prophets were made of. Since this kind of religious epiphany is something our brains can already do, the fact that a substance like DMT can reliably reproduce this single phenomena (in concert with other effects, of course) is not much of a stretch.
3. The archetypal DMT "entities" are pretty well categorized, with most people seeing elves or aliens or fairies or angels or some kind of loopy little spirits that dance about and tell riddles. Sometimes it is a spirit-animal like a jaguar or a snake, sometimes it is none of the above and goes totally off the map. But getting back to the elf thing (which is what many people find to be the most curious aspect), I initially found it very surprising to be confronted by elves in my DMT experiences, and on psilocybe mushrooms as well, and did indeed perceive them as externalized, morphing, disincarnate beings. I even managed to carry on rudimentary conversations of sorts. However, the more I experimented with DMT the more I found that the "elves" were merely machinations of my own mind. While under the influence I found I could think them into existence, and then think them right out of existence simply by willing it so. Sometimes I could not produce elves, and my mind would wander through all sorts of magnificent and amazing creations, but the times that I did see elves I tried very hard to press them into giving up some non-transient feature that would confirm at least a rudimentary "autonomous existence" beyond my own imagination. Of course, I could not. Whenever I tried to pull any information out of the entities regarding themselves, the data that was given up was always relevant only to me. The elves could not give me any piece of data I did not already know, nor could their existence be sustained under any kind of prolonged scrutiny. Like a dream, once you realize you are dreaming you are actually slipping into wakefulness and the dream fades. So it is with the elves as well. When you try to shine a light of reason on them they dissolve like shadows.
4. Which brings me to my last point. Psychedelics in general have an amazing capacity to activate the mind's eye, or what I call the imaginal workspace. In our day-to-day lives we have two active areas that are processing our perception of reality. The first is the primary workspace where all our sense data is compiled in our pre-frontal cortex to give us our waking picture of reality. The second is the imaginal workspace, where we can think about abstract thoughts or visualize the contents of our cupboards from memory (or whatever). The imaginal workspace is generally running in the background, helping us plan our actions by visualizing them in advance — like driving to the grocery store for instance. We visualize the store, plan a route, and then go. All the while our primary workspace is taking up most of our attention. This balance flips, however, when we are caught in deep abstract thinking, like daydreaming or trying to solve a difficult problem. And when we sleep the primary workspace is actually taken-over by the imaginal workspace to process all the backlogged data that was set aside during the waking day. When this happens we dream, and our primary workspace is filled with imaginal data (memory compressed by the hippocampus), and suddenly we are immersed in an imaginal reality that looks and feels just as solid as waking reality. Since it is being processed in the primary workspace, the same high-end gear that we use to processes our waking reality, we can't tell the difference. The only difference between being awake and dreaming is the origin of the data that is being processed in the primary workspace. When you are awake you are processing external sense data in the primary workspace. When you are dreaming you are processing internal (imaginal/memory) data in the primary workspace.
I have done many experiments with lucid dreaming and self-induced visionary and hypnogogic states and I can tell you that the switch from external to internal data sources feeding into the primary workspace (and vice-versa) happens in a split second. It is too quick to notice unless you are waiting and watching very carefully for the neural hand-off. But it is there. It is a physical, mechanical thing. One second you are awake and listening to the faucet drip, the next second you are wandering through a dream parking lot listening to the sound of your keys jingling, searching for your car. If you catch yourself and wake back up again you are back to the drip-drip-drip of the faucet. Close your eyes and you are back in the parking lot (or wherever). So, knowing that there's this kind of murky area in between waking and dreaming where imagination feeds into working memory, it is not much of a stretch to assume that psychedelics can interact with the chemical signals which manage that hand-off between external sensory data and imaginal data flowing into our primary workspace. It may very well be that in the psychedelic state our selective sensory inputs are totally opened up so that everything is crashing in at once, making it impossible to parse the data and distinguish what is real from what is imaginal until the drug actually wears off. In short, concrete psychedelic visuals may be nothing more than chaotic visual patterns overlapped with images created from waking dreams.
So, within the framework of this equation one question remains: Why is the alien/elf archetype so common to the DMT experience? The only answer I have is that we humans must have innate evolutionary wetware that forces our senses to latch onto any piece of anthropomorphic data that pops into otherwise randomly uniform data — like spotting the face of another human or a jaguar peering out from behind the bushes, or seeing another human moving through tall grass. The evolutionary advantage of such a trait is obvious, and in standard Rorschach tests even the most amorphous blobs are found to look like faces and/or people no matter what culture the observer is from. Now, given the amazing swirling kaleidoscopic imagery produced in the typical DMT trip, it is inevitable that anthropomorphic shapes will emerge and then express themselves in even greater detail as the mind latches onto them and "dreams" them into focus. With the imaginal workflow kicked into high gear, it is not surprising that these emergent anthropomorphic entities can then speak to us, revealing shocking details from our own subconscious in a conversational stream of visual theater. Given all of this, in a nutshell, the case for autonomous disincarnate DMT entities is closed. All that is needed to produce them is our own over-excited visual system and imagination, and thus Occam's razor wipes them right off the table and into the fairy-dust bin.
In conclusion I would just like to mention a couple more things. The visions produced by DMT are not solely elves and alien entities. A wide variety of archetypes and just plain-old whacked-out stoner shit creeps into the mix. It is highly individual and in many cases is heavily dependent on set and setting. This fact alone (more than anything else) leads me to believe that the DMT entities are mere figments. If, for example, everyone always saw talking penguins and only talking penguins while high on DMT, that would be much harder to explain and much more mysterious. The fact that DMT "consciousness" reveals itself in so many forms tells me that the "messenger" — be it elf, alien, jaguar, or whatever — is basically arbitrary within the context of the patterns and archetypes our minds tend to pick out of random noise. However (and this is the good part), the really interesting thing about DMT experiences is not the elves (messengers) themselves, but what it is they are saying (the message). And when you get to the heart of what the typical DMT message is, it is usually something about the environment or living systems or the vast plant consciousness that penetrates our world. The "Gaia consciousness" that infuses the experience is undeniable, and what to make of that I don't know, other than to entertain the possibility that this ancient plant consciousness actually exists and is attempting to make itself known through the DMT-enlightened mammal brain. If so, then this is the real discovery of the DMT experience, and this is the topic that should be looked at more closely. In the context of DMT being a two-way radio for plant-human communication, the "elves" themselves are nothing more than a cartoon interface for the exchange of information.
Tags: Altered States, Beckley Foundation, brain science, brainwave, cognitive enhancement, Consciousness, Drug Policy, drugs, emotion, Latin America, meditation, nature, neural activity, perception, religious experience, Science, Spirituality, telepathy
Leave a Reply
You must be logged in to post a comment.
Trackbacks
Leave a Trackback